Banana Bread Muffins Recipe
My family eats a lot of bananas! I buy them weekly, and they're usually gone the same day. I like my bananas not fully ripe, with a hint of green still on them. I know this isn't the best way to eat them, but I call them sweet and sour bananas. My kids call really ripe bananas "sweet bananas." Well last week I was shopping and saw a batch of "sweet bananas" for only seventy cents and I knew they were perfect for banana bread.
I like to make banana bread when I have a few extra ripened bananas left over, especially for breakfast on the weekend. Banana bread takes almost an hour to cook, so this past weekend I decided on Banana Bread Muffins instead. They were done in about 25 minutes. Just a note, if you or your children have nut allergies, unfortunately these muffins aren't a good idea for you.
Banana Bread Muffins Recipe
2015-03-11 22:32:17
Ingredients
5 over ripened bananas
2 cups flour
1 teaspoon baking soda
1 teaspoon baking powder
1 teaspoon salt
1 cup of sugar
2 eggs
1 teaspoon vanilla
1 teaspoon cinnamon
1/2 cup peanut oil
Instructions
Preheat the oven to 350F
In a medium sized bowl mix flour, baking soda, baking powder, and salt
In a large bowl cream together eggs and sugar
Next mix in mashed bananas, vanilla, oil and cinnamon
Slowly stir in flour mixture until combined
Pour into a prepared muffin tin
Bake for about 25 minutes until golden brown
Enjoy!
Notes
Can use vegetable oil as a substitute for peanut oil.
Mommy Week™ http://www.mommyweek.com/
This Banana Bread Muffin Recipe is perfect for breakfast on the weekend. The muffins are light, moist, and fluffy inside.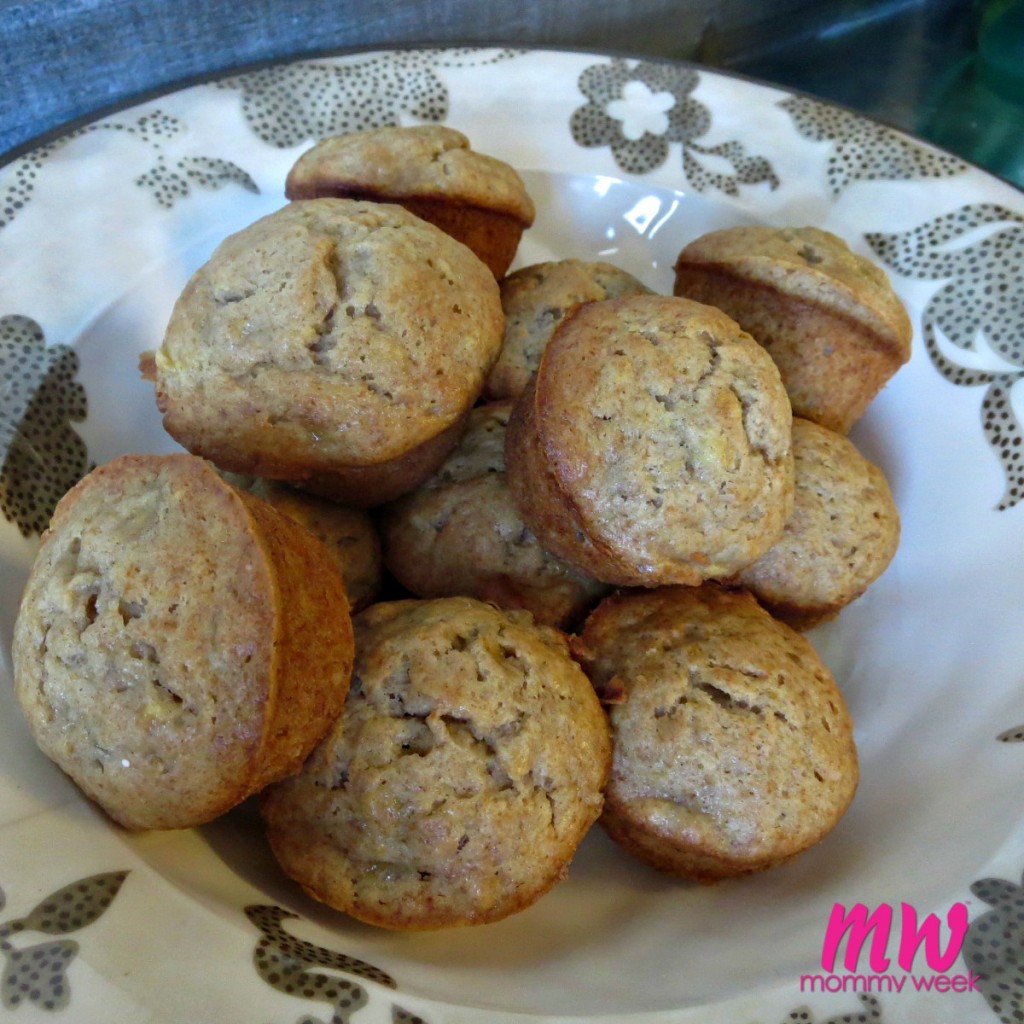 Of course my kids loved the banana bread muffins and wished I made more. These were a hit in my house!
Does your family like banana bread for breakfast?
Ashley