Easy DIY Summer Maxi Dress Tutorial
This post has been a long time coming! I wore this striped maxi dress while I was in Panama City Beach in April celebrating my birthday.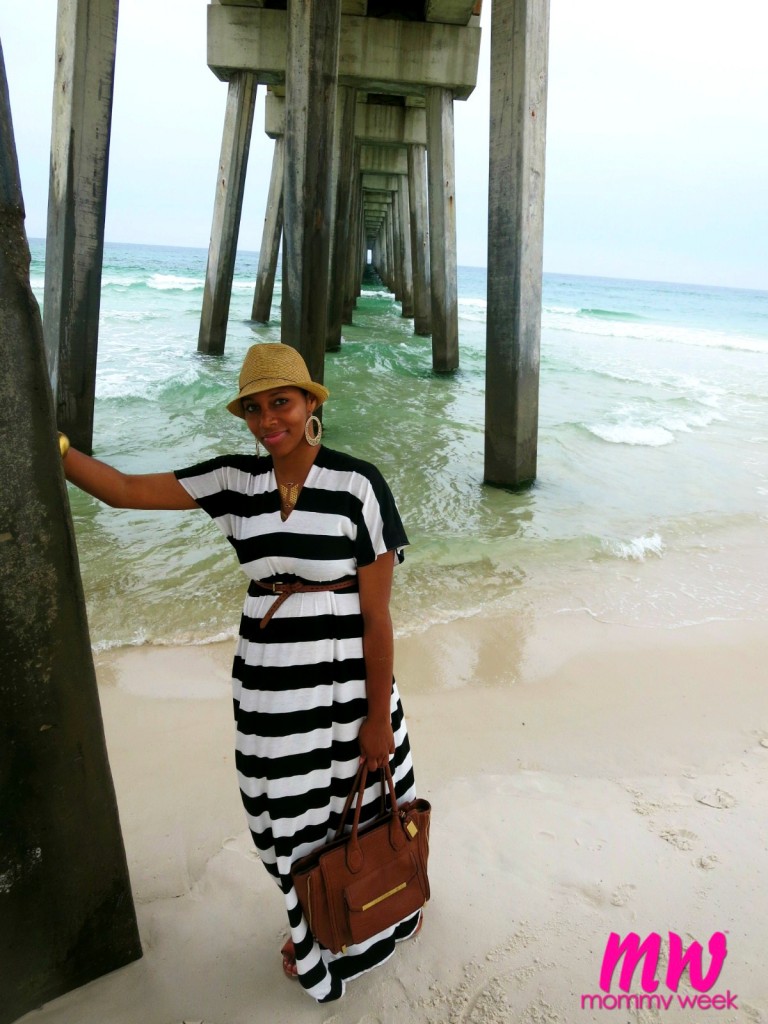 I have several of these dresses. I make them all the time because they take less than an hour. They are so easy to make even if you are a beginner at sewing. In fact, it's the perfect project if you're just starting out trying your hand at sewing. I've been sewing since I was 8 years old. My grandma taught me how to sew by hand, and my aunt bought me my first Singer sewing machine. I started out by making doll dresses, and when BabyCake was a toddler, I made her entire wardrobe!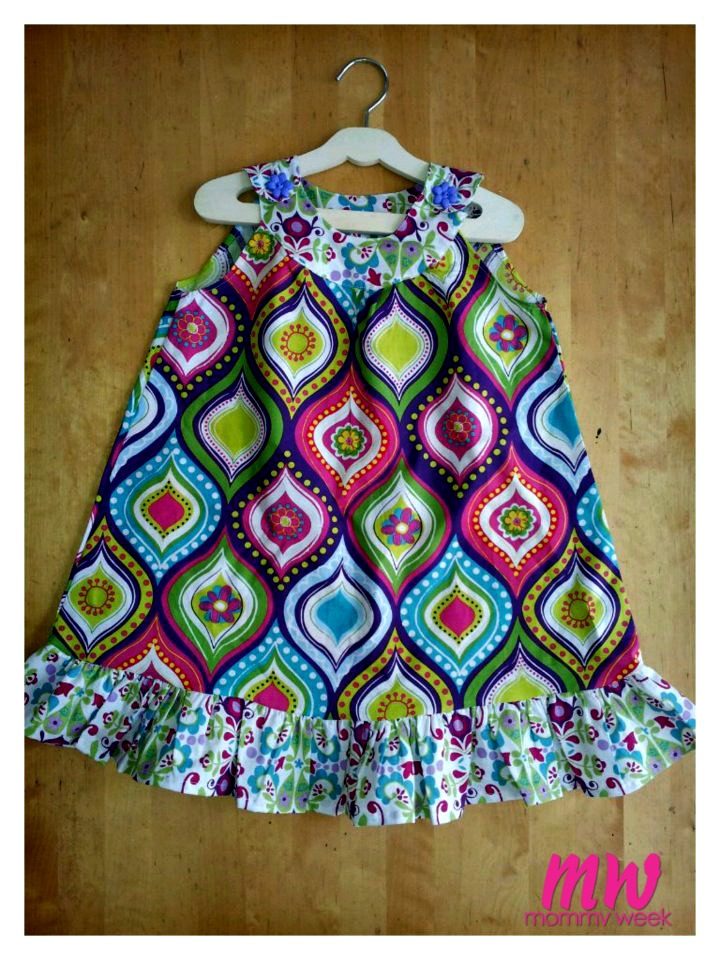 Sewing is just something that I love to do. It's relaxing, inexpensive, and you can make unique pieces that are guaranteed that no one else will have. I'm not a master seamstress, but basic dresses and skirts I can make all day.
You Need:
Basic Sewing Machine
Sewing Scissors
Measuring Tape
Matching Thread
2 Yards of Knit Fabric 60″ wide
Ballpoint Needle
I'm 5'11" so my dress needs to be 62″ long. That's almost two yards of fabric. Make sure you buy fabric from the bolt that is 60″ wide. You are going to fold it in half, and cut up the side. I'm a size 6, and this dress is a one size fits most from sizes 2-14. It's more like a caftan or what some like to call a moo moo. I just add a belt to it, to give it some shape and structure. It's extremely versatile and cool to wear. One that I have, I wear it as a cover-up to the beach without the belt. I've always gotten so many compliments on it.
First you are going to lay your fabric out, folded in half the long way. Measure your height from the nape of your neck to your heel and add 1 inch for seam allowance. Take that measurement and cut your folded fabric lengthwise.
Next your are going to cut up the side of your fabric so that you will end up with two large rectangles.
Now it's time to head to the sewing machine. For knit fabric, it's best to always use a ballpoint needle. Using a ballpoint needle will make sewing knit super easy. Otherwise the fabric will bunch as you sew and it won't come out looking very good. I don't own a serger, so I use a zigzag stitch to go up the side of the dress. You are going to use the zigzag stitch sewing, starting from the bottom left side of the dress. Sew it all the way up the side, around the top, and then all the way down to the other side.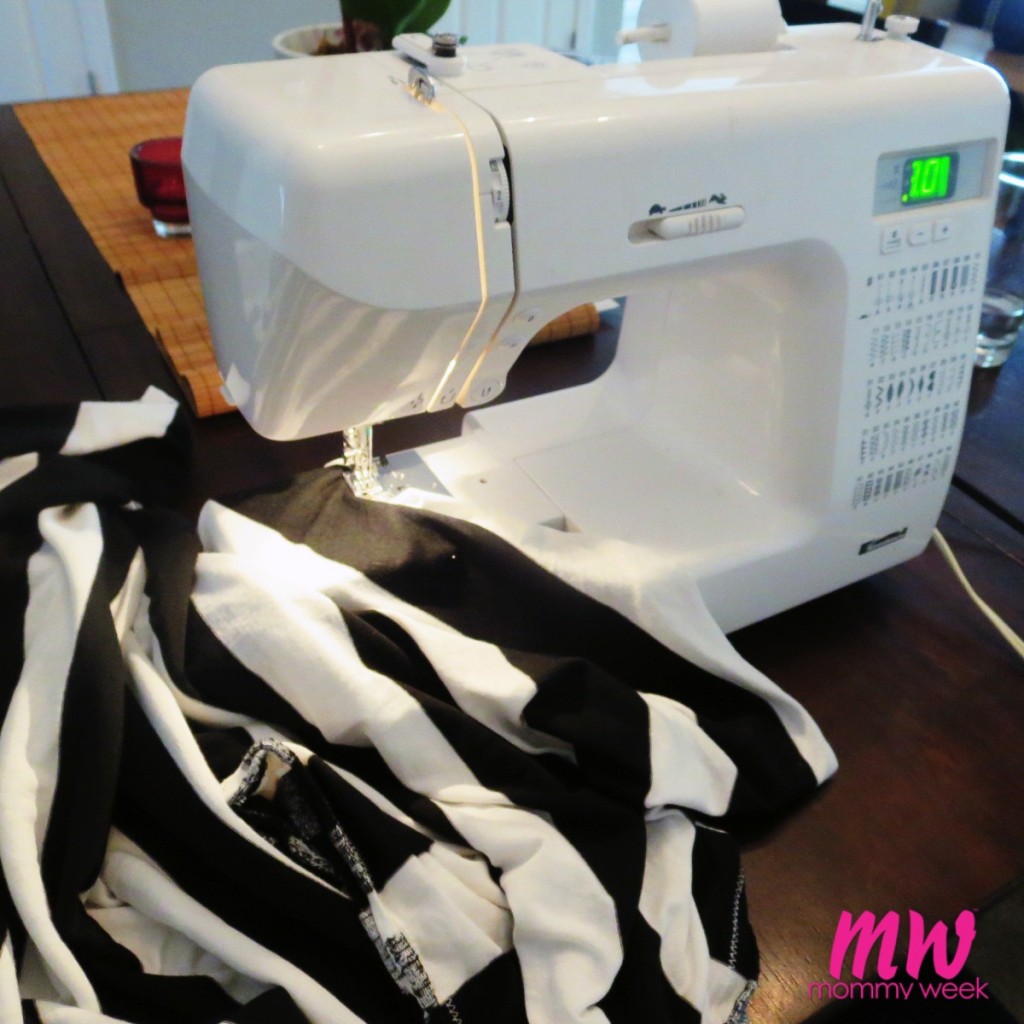 It's going to look like you have one large pillowcase with the bottom open. Now you are going to cut the neck and arm holes. Fold the large rectangle in half again. From the top that is sewed close, cut about 6 inches down the middle. You can make this V as deep as you like, depending on whether or not you want to show cleavage. It's totally up to you.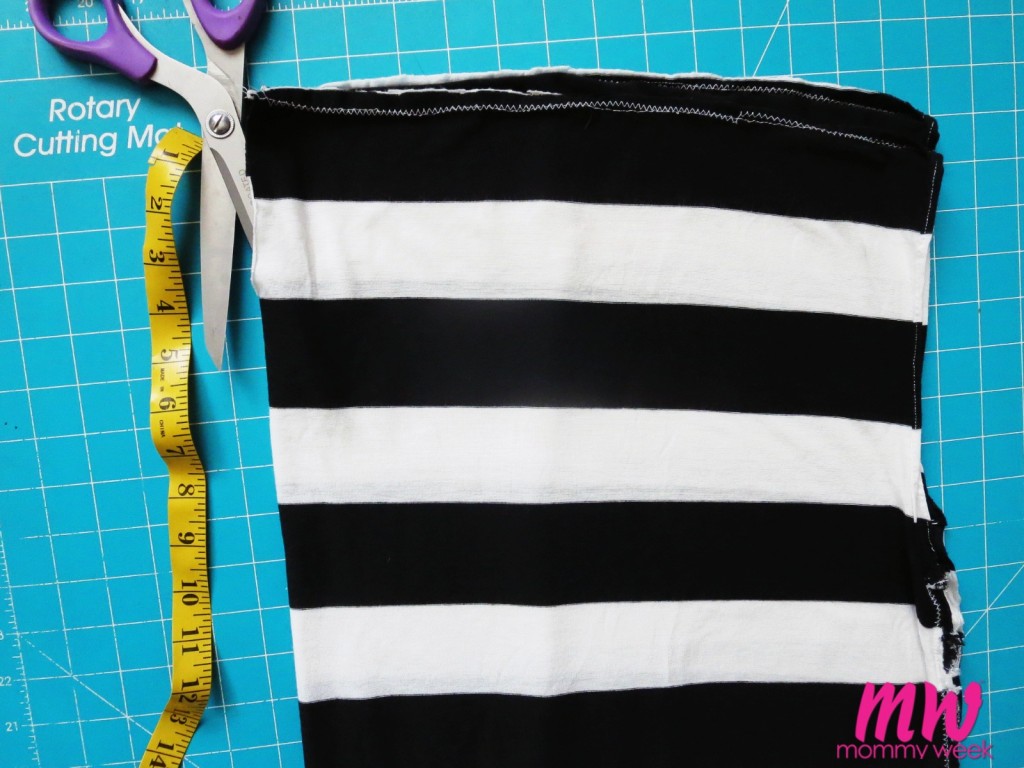 Next for the armholes, with the fabric still folded in half. On the edge move your scissors over one inch, and cut 8 inches down in a small J or L shape. You can leave the arm and neck as they are without sewing anything to finish. Knit fabric does not fray and no one will be able to notice.
(This pic shows the arms already cut and finished)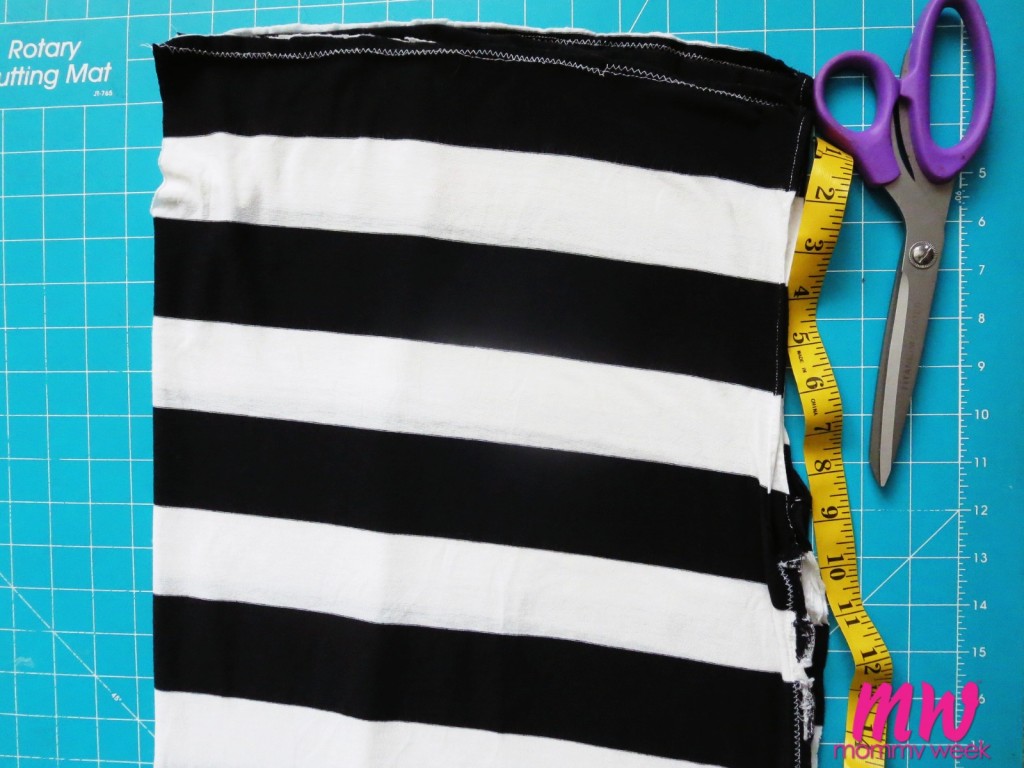 At this point, I actually go back around the dress with a straight stitch just to reinforce the stitches and make sure nothing unravels. Be sure not to sew your armholes or neck back closed.
Now it's time to try on the dress and determine that it's the proper length that you want. Next you will roll your fabric about one inch at the bottom edge to sew a hem. I don't use pins to hold the fabric, but you can if this helps you along. Sew it all the way around.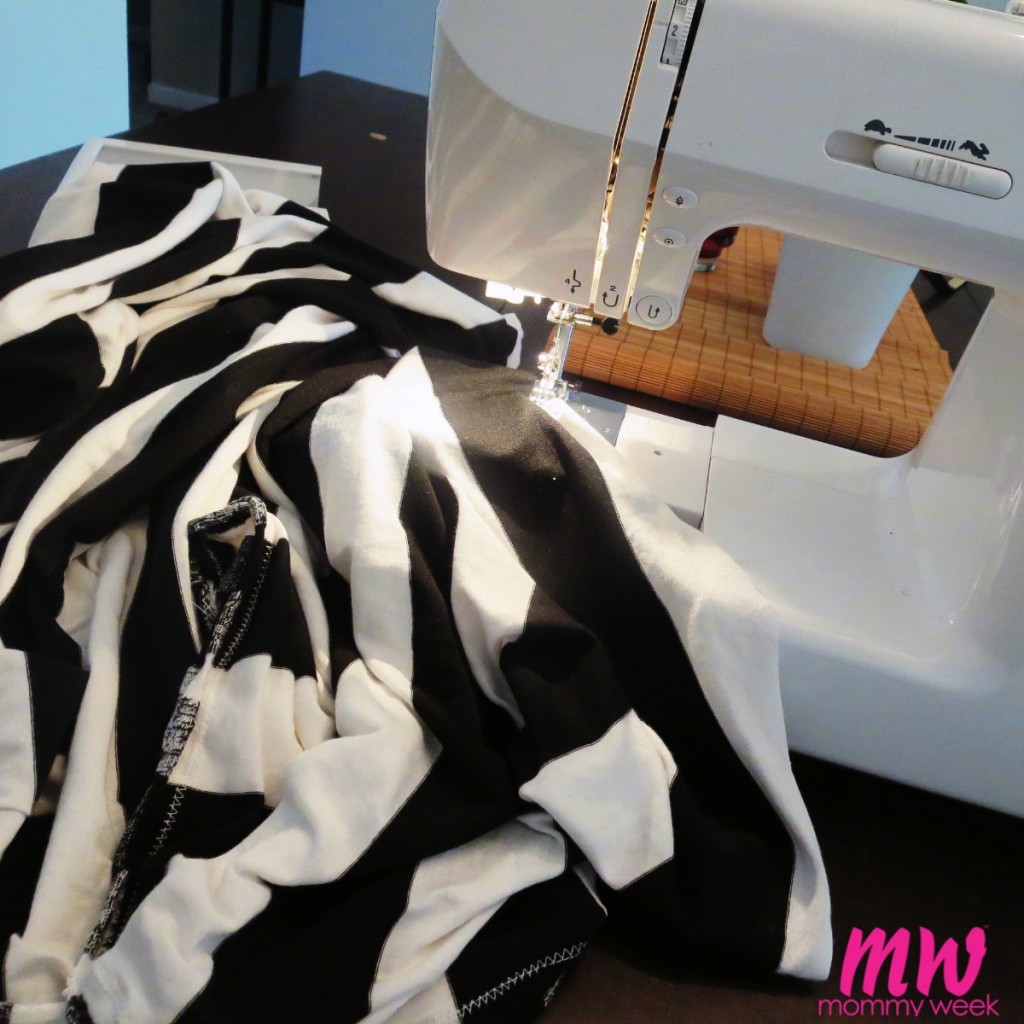 Your dress is done and ready to wear! Add a cute belt and accessorize it or wear it to the beach as a caftan! I bought this fabric from my local Hancock Fabric Store, and paid $4.95 for it. I had a friend tell me she has a dress just like this one from Banana Republic!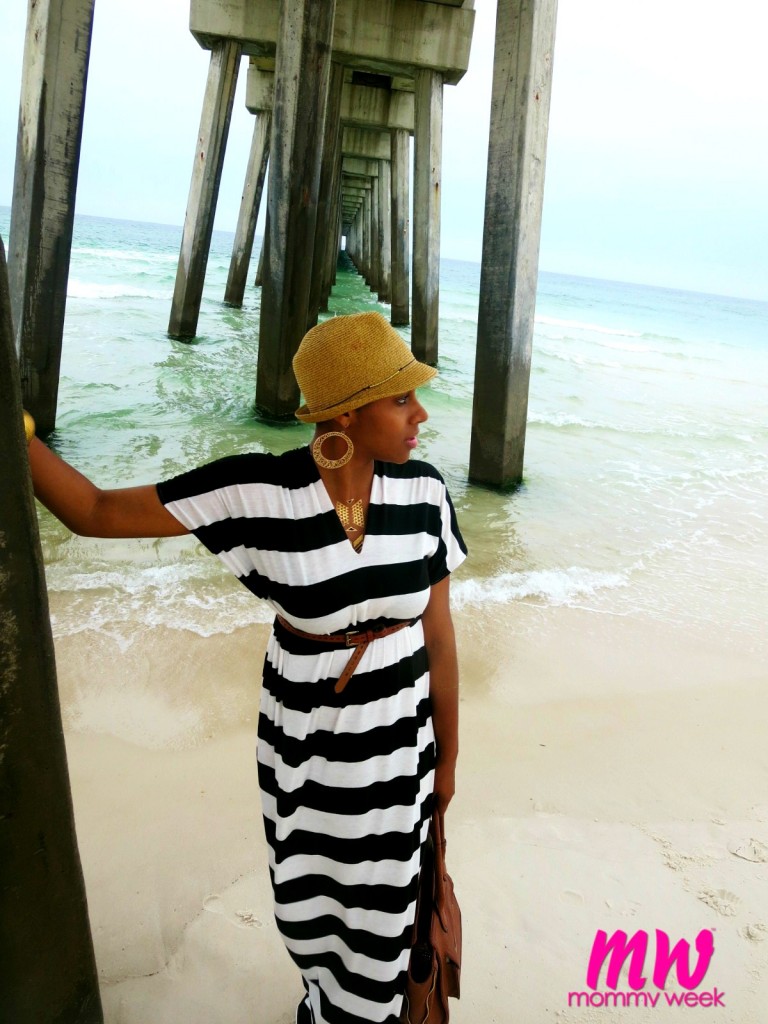 This dress is super breezy, and comfortable. One of my favorite pieces in my summer wardrobe!
If you make your own maxi dresses this summer, I want to see them! Make sure to tag me on Instagram & Twitter with your creations @mommyweek!
Have you ever made any of your own clothes?
Ashley