In this post I share my deliciously refreshing Pineapple Ginger & Carrot Juice Recipe. It's the right amount of sweetness and a hint of spice. It's rich in vitamins A, C, & B6. Ginger is a great digestive aid and calms upset stomachs.
Recipe as follows:
10 whole organic carrots with the tops chopped off
1 medium sized ripe pineapple peeled and sliced in chunks
1 4-6 inch piece of ginger root peeled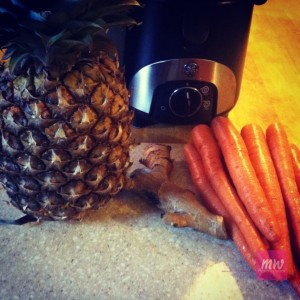 First place 5 carrots in the juicer and purée. Next add 1/2 of the pineapple chunks and purée. Then comes the whole piece of ginger root. Finally add the last 5 carrots and last half of the pineapple chunks. This recipe makes 16oz of juice. Serve immediately. Enjoy!
Did you try my Pineapple Ginger & Carrot Juice Recipe? Let's connect! Leave a comment or find me on Instagram and Twitter @mommyweek #mommyweek or on Facebook.
Ashley ❤